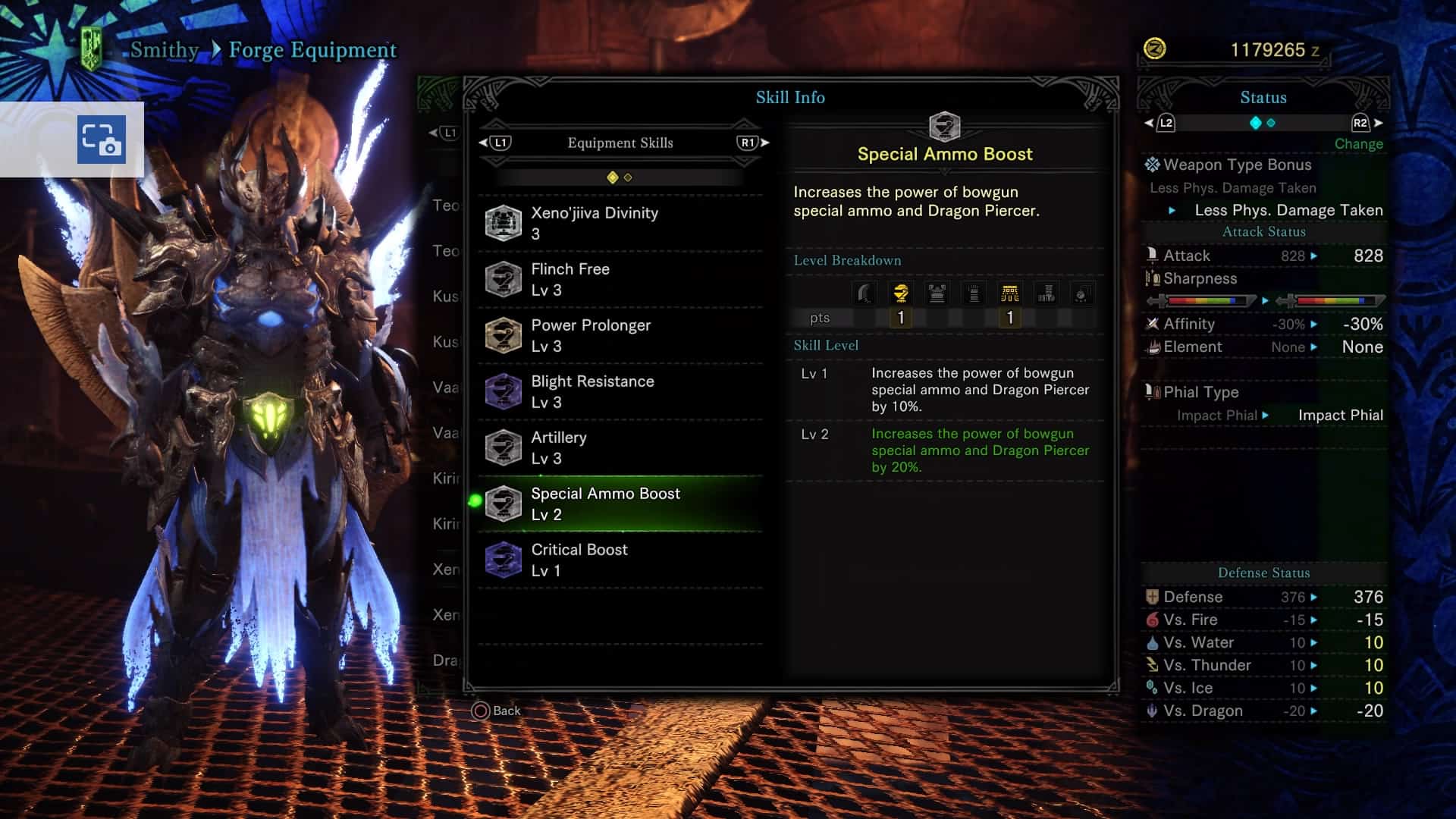 Monster Hunter: World – Armor Skills
Will be updated regularly for an easier look of current armor skills and the builds associated with it.

Welcome to the world of color armor skill icon which no specific rule or condition. So your best guess for an armor skill is mostly its name. As the icon's color does not tell exactly what kind of armor skills you gonna get.
ARMOR SKILLS
DETAILS
Attack Boosts

Level 1 – Attack +3
Level 2 – Attack +6
Level 3 – Attack +9
Level 4 – Attack +12 Affinity +5%
Level 5 – Attack +15 Affinity +5%
Level 6 – Attack +18 Affinity +5%
Level 7 – Attack +21 Affinity +5%
Agitator

Level 1  – While active, grant attack +4 and increases affinity by 3%
Level 2 – While active, grant attack +8 and increases affinity by 6%
Level 3 – While active, grant attack +12 and increases affinity by 9%
Level 4 – While active, grant attack +16 and increases affinity by 12%
Level 5 – While active, grant attack +20 and increases affinity by 15%
Peak Performance

Level 1 – While Active, grant attack +5
Level 2 – While Active, grant attack +10
Level 3 – While Active, grant attack +20
Heroic

Level 1 – While Active, increase attack power by 5% and defense by 15
Level 2 – While Active, increase attack power by 10% and defense by 20
Level 3 – While Active, increase attack power by 15% and defense by 25
Level 4 – While Active, increase attack power by 20% and defense by 30
Level 5 – While Active, increase attack power by 30% and defense by 40
Fortify

Increases attack by 10% and defense by 15% each time you fall in battle.
Resentment

Level 1 – While Active, grant attack +5
Level 2 – While Active, grant attack +10
Level 3 – While Active, grant attack +15
Level 4 – While Active, grant attack +20
Level 5 – While Active, grant attack +25
Critical Eye

Level 1 – Affinity +3%
Level 2 – Affinity +6%
Level 3 – Affinity +10%
Level 4 – Affinity +10%
Level 5 – Affinity +20%
Level 6 – Affinity +25%
Level 7 – Affinity +30%
Critical Boost

Level 1  – Increase damage dealt with critical hits by 30%
Level 2  – Increase damage dealt with critical hits by 35%
Level 3  – Increase damage dealt with critical hits by 40%
Weakness Exploit

Level 1 – Attack that hit weak spots have 15% increased affinity
Level 2 – Attack that hit weak spots have 30% increased affinity
Level 3 – Attack that hit weak spots have 50% increased affinity
Critical Draw

Level 1 – Draw Attack affinity +30%
Level 2 – Draw Attack affinity +60%
Level 3 – Draw Attack affinity +100%
Latent Power

Level 1  – 10% increased affinity and 10% reduced stamina depletion
Level 2  – 20% increased affinity and 20% reduced stamina depletion
Level 3  – 30% increased affinity and 30% reduced stamina depletion
Level 4  – 40% increased affinity and 40% reduced stamina depletion
Level 5  – 50% increased affinity and 50% reduced stamina depletion
Maximum Might

Level 1  – When Stamina is full, increase Affinity by 10%
Level 2  – When Stamina is full, increase Affinity by 20%
Level 3  – When Stamina is full, increase Affinity by 30%
Affinity Sliding

Increase affinity by 30% for a short time after sliding
Defense Boost

Level 1  – Defense +5
Level 2 – Defense +10
Level 3 – Defense +15
Level 4 – Defense +20 All Elemental Resistance + 3
Level 5 – Defense +25 All Elemental Resistance + 4
Level 6 – Defense +30 All Elemental Resistance + 5
Level 7 – Defense +35 All Elemental Resistance + 6
Guard

Level 1  – Very slightly decreases the impact of attacks and reduces stamina depletionn
Level 2 – Slightly decrease the impact of attacks and reduces stamina depletion by 15%
Level 3 – Greatly decrease the impact of attacks and reduces stamina depletion by 15%
Level 4 – Greatly decrease the impact of attacks and reduces stamina depletion by 30%
Level 5 – Massively decrease the impact of attacks and reduces stamina depletion by 50%
Guard Up

Allows you to guard against ordinarily unblockable attacks
Evade Extender

Level 1 – Slightly extends evasion distance
Level 2 – Extends evasion distance.
Level 3 – Greatly extends evasion distance.
Evade Window

Level 1 – Very slightly increases invulnerability window
Level 2 –  Slightly increases invulnerability window
Level 3 –  Increases invulnerability window
Level 4 – Greatly increases invulnerability window
Level 5 – Massively increases invulnerability window
Divine Blessing

Level 1 – While Active, reduces damage taken by 15%
Level 2 – While Active, reduces damage taken by 15%
Level 3 – While Active, reduces damage taken by 15%
Resuscitate

Level 1  – Improves evasion and reduces stamina depletion when afflicted with abnormal status effects
Health Boost

Level 1 – Health +15
Level 2 – Health +30
Level 3 – Health +50
Recovery Up

Level 1 – Increases the amount restored when restoring Health 10%
Level 2 – Increases the amount restored when restoring Health 20%
Level 3 – Increases the amount restored when restoring Health 30%
Recovery Speed

Level 1 – Speeds healing of recoverable damage (the red portion of the health gauge (Double)
Level 2 – Speeds healing of recoverable damage (the red portion of the health gauge (Triple)
Level 3 – Speeds healing of recoverable damage (the red portion of the health gauge (Quadruple)
Hasten Recovery

Regenerates your health as you continuously attack a monster.
Super Recovery

Allows recovery to exceed the red portion of the health gauge
Stamina Cap Up

Increase Stamina Cap (200)
Guts

Above a certain health  threshold, you withstand an attack that would normally cart you (once only)
Constitution

Level 1 – Reduces stamina depletion when performing stamina-draining moves such as evading -(10%)
Level 2 – Reduces stamina depletion when performing stamina-draining moves such as evading – (20%)
Level 3 – Reduces stamina depletion when performing stamina-draining moves such as evading – (30%)
Level 4 – Reduces stamina depletion when performing stamina-draining moves such as evading – (40%)
Level 5 – Reduces stamina depletion when performing stamina-draining moves such as evading – (50%)
Stamina Surge

Level 1 – Stamina recovery speed +10%
Level 2 – Stamina recovery speed +20%
Level 3 – Stamina recovery speed +30%
Hunger Resistance

Level 1  – Reduces the time before stamina cap is reduced during hunt (30%)
Level 2- Reduces the time before stamina cap is reduced during hunt (60%)
Level 3 – No more Reduction
Marathon Runner

Level 1 – Reduces stamina draining for actions that continuously use the stamina (dashing, climbing…) 15%
Level 2 – Reduces stamina draining for actions that continuously use the stamina (dashing, climbing…) 30%
Level 3 – Reduces stamina draining for actions that continuously use the stamina (dashing, climbing…) 50%
Adrenaline

Level 1 – Reduces Stamina depletion when HP drops below 40%
Handicraft

Level 1 – Weapon sharpness +10
Level 1 – Weapon sharpness +11
Level 1 – Weapon sharpness +12
Master's Touch

Level 1 – Prevent Sharpness loss during critical hits
Razor Sharp/Spare Shot

Level 1 – Reduce Sharpness loss. For Ranged Weapons, shots have a chance to not using ammo
Protective Polish

Level 1 – After sharpening, weapons sharpness does not loss for 60 seconds
Wide-Range

Level 1  – Item Usage will affect nearby allies with 33% of effect
Level 2  – Item Usage will affect nearby allies in a wider radius with 33% of the effect
Level 3 –  Item Usage will affect nearby allies in a wider radius with 66% of the effect
Level 4 –  Item Usage will affect nearby allies in a much wider radius with 66% of the effect
Level 5  – Item Usage will affect nearby allies in a much wider radius with full effect
Item Prolonger

Level 1  – Extend the duration of item effects +10%
Level 2 – Extend the duration of item effects +15%
Level 3 – Extend the duration of item effects +50%
Free Meal

Level 1 – Occasionally consumes food or items for free (Activate 25% of the time)
Speed Eating

Level 1  – Consume items 20% Faster
Level 2 – Consume items 84% Faster
Level 3 – Consume items 180% Faster
Bombardier

Level 1  – Boost explosion damage +10%
Level 2 – Boost explosion damage +20%
Level 3 – Boost explosion damage +30%
Mushroomancer

Level 1  – Let you digest Blue Mushrooms and Toadstools to gain effects
Level 2 – + Nitroshrooms and Parashrooms
Level 3 – + Mandragoras, Devil's Blight & Exciteshrooms
Dragon Resistance

Level 1 – Dragon Resistance + 6
Level 2 – Dragon Resistance +12
Level 3 – Dragon Resistance +20 Defense +10
Water Resistance

 

Level 1 – Water Resistance + 6
Level 2 – Water Resistance +12
Level 3 – Water Resistance +20 Defense +10
Ice Resistance

Level 1 – Ice Resistance + 6
Level 2 – Ice Resistance +12
Level 3 – Ice Resistance +20 Defense +10
Thunder Resistance

Level 1 – Thunder Resistance + 6
Level 2 – Thunder Resistance +12
Level 3 – Thunder Resistance +20 Defense +10
Blight Resistance

Level 1 – Reduces the duration of all elemental blights by 30%
Level 2 – Reduces the duration of all elemental blights by 60%
Level 3 – Nullifies effects of all elemental blights
Poison Resistance

Level 1 – Reduces poison durations by 30%
Level 2 –  Reduces poison durations by 60%
Level 3 – Nullify poison
Paralysis Resistance

Level 1 – Reduces paralysis durations by 30%
Level 2 –  Reduces paralysis durations by 60%
Level 3 – Nullify paralysis
Sleep Resistance

Level 1 – Reduces sleep durations by 30%
Level 2 –  Reduces sleep durations by 60%
Level 3 – Nullify sleep
Stun Resistance

Level 1 – Reduces stun durations by 30%
Level 2 –  Reduces stun durations by 60%
Level 3 – Nullify stun
Blast Resistance

Level 1 – Reduces blast durations by 30%
Level 2 –  Reduces blast durations by 60%
Level 3 – Nullify blast
Bleeding Resistance

Level 1 – Decrease damage while Bleeding
Level 2- Greatly Decrease damage while Bleeding
Level 3- Nullify Bleeding
Muck Resistance

Level 1 – Reduces limitation when stuck in Monster's muck
Iron Skin

Level 1 – Reduces Defense Down durations by 30%
Level 2 –  Reduces Defense Down durations by 60%
Level 3 – Nullify Defense Down
Effluvia Resistance

Level 1 – Reduces Effluvial Buildup
Level 2 – Greatly reduces Effluvial Buildup
Level 3 – Prevents Effluvial Buildup
Earplugs

Level 1 – Slightly reduces the effect of weak monster roars
Level 2 – Reduces the effect of weak monster roars
Level 3 – Nullify weak monster roars
Level 4 – Nullify weak monster roars and reduces effects of strong monster roars
Level 5 – Nullify all monsters roar
Windproof

Level 1 – Slightly reduces the effect of minor wind pressure
Level 2 – Reduces the effect of minor wind pressure
Level 3 – Negate the effect of minor wind pressure
Level 4 – Negate the effect of minor wind pressure and reduces the effects of major wind pressures
Level 5 – Negate the effect of wind pressure
Tremor Resistance

Level 1 – Nullifies Minor Ground Tremors
Level 2- Nullifies Minor Ground Tremors and reduces the effects of major ground tremors
Level 3 – Nullifies Ground Tremor
Heat Guard
Level 1 – Nullifies Heat Damage
Effluvial Expert

Level 1 – Nullifies damage from Effluvia in Rotten Vale and reduces Damages from acid
Nullify Wind Pressure

Level 1 – Negates all wind pressure
Dragon Attack

Level 1 – Dragon Attack +30
Level 2 – Dragon Attack +60
Level 3 – Dragon Attack +100
Level 4 – Dragon Attack +5% Bonus +100
Level 5 – Dragon Attack +10% Bonus +100
Ice Attack

Level 1 – Ice Attack +30
Level 2 – Ice Attack +60
Level 3 – Ice Attack +100
Level 4 – Ice Attack +5% Bonus +100
Level 5 – Ice Attack +10% Bonus +100
Water Attack

Level 1 – Water Attack +30
Level 2 – Water Attack +60
Level 3 – Water Attack +100
Level 4 – Water Attack +5% Bonus +100
Level 5 – Water Attack +10% Bonus +100
Thunder Attack
Level 1 – Thunder Attack +30
Level 2 – Thunder Attack +60
Level 3 – Thunder Attack +100
Level 4 – Thunder Attack +5% Bonus +100
Level 5 – Thunder Attack +10% Bonus +100
Dragon Attack

 

Level 1 – Dragon Attack +30
Level 2 – Dragon Attack +60
Level 3 – Dragon Attack +100
Level 4 – Dragon Attack +5% Bonus +100
Level 5 – Dragon Attack +10% Bonus +100
Blast Attack

Level 1 – Blast Attack +30
Level 2 – Blast Attack +60
Level 3 – Blast Attack +100
Level 4 – Blast Attack +5% Bonus +100
Level 5 – Blast Attack +10% Bonus +100
Critical Element
Level 1 – Allow Elemental Damage when landing Critical hits
Poison Duration Up

 

Level 1 – Extends the duration of your poison's effect on monsters
Poison Attack

Level 1 – Increase Poison buildup by 5%. Bonus +10
Level 2 – Increase Poison buildup by 10%. Bonus +10
Level 3 – Increase Poison buildup by 20%. Bonus +10
Paralysis Attack

Level 1 – Increase Paralysis buildup by 5%. Bonus +10
Level 2 – Increase Paralysis buildup by 10%. Bonus +10
Level 3 – Increase Paralysis buildup by 20%. Bonus +10
Sleep Attack

Level 1 – Increase Sleep buildup by 5%. Bonus +10
Level 2 – Increase Sleep buildup by 10%. Bonus +10
Level 3 – Increase Sleep buildup by 20%. Bonus +10
Blast Attack

Level 1 – Increase Blast buildup by 5%. Bonus +10
Level 2 – Increase Blast buildup by 10%. Bonus +10
Level 3 – Increase Blast buildup by 20%. Bonus +10
Critical Status

Level 1 – Increase abnormal status damage when landing critical hits
Normal Shots

Level 1 – Increase damage of normal ammo and normal arrows (stack with Power Coating)
Piercing Shots

Level 1 – Increase damage of piercing ammo and Dragon piercer
Spread/Power Shots

Level 1 – Increase damage of Spread Ammo and Power Shot Arrows
Free Element/Ammo Up
Level 1 – Draw out 33% of Hidden Element and expands clip size for certain types of ammo
Level 2 – Draw out 66% of Hidden Element and expands clip size for more types of ammo
Level 3 – Draw out 100% of Hidden Element and expands clip size for almost all ammo types (excluding Wyvern)
Focus

 

Level 1 – Increase gauge fill rates by 5% and reduce charge time by 5%
Level 2 – Increase gauge fill rates by 10% and reduce charge time by 10%
Level 3 – Increase gauge fill rates by 20% and reduce charge time by 15%
Power Prolonger 
Level 1 – Increase power up duration for Long Sword, Charge Blade, Insect Glaives, Dual Blades & Switch Axe by 10%

Level 2 – Increase power up duration for Long Sword, Charge Blade, Insect Glaives, Dual Blades & Switch Axe by 20%

Level 3 – Increase power up duration for Long Sword, Charge Blade, Insect Glaives, Dual Blades & Switch Axe by 30%

Part Breaker
Level 1 – Increase the chance to break monster parts by 10%
Level 2 – Increase the chance to break monster parts by 20%
Level 3 – Increase the chance to break monster parts by 30%
Slugger
Level 1 – Increase stun power by 10%
Level 2 – Increase stun power by 20%
Level 3 – Increase stun power by 30%
Stamina Thief
Level 1 – Exhaust power +10%
Level 2 – Exhaust power +20%
Level 3 – Exhaust power +30%
Master Mounter
Level 1 – Increase the chance of mounting a monster
Airborne
Level 1 – Increase damage of jumping attacks by 10%
Horn Maestro
Level 1 – Extends Hunting horn buff durations and health recovery
Capacity Boost
Level 1 – Increase Gunlance shells, Charge Blade capacity by 1
Special Ammo Boost
Level 1 – Increase power of Bowgun special ammo and Dragon Piercer by 10%
Level 2 – Increase power of Bowgun special ammo and Dragon Piercer by 20%
Artillery
Level 1 – Increase Gunlance shells, Charge Blade Phial Attacks, Sticky Ammo, Wyvern's Fire damage by 10%, also reduces Wyvern's Fire cooldown by 15%
Level 2 – Increase Gunlance shells, Charge Blade Phial Attacks, Sticky Ammo, Wyvern's Fire damage by 20%, also reduces Wyvern's Fire cooldown by 30%
Level 3 – Increase Gunlance shells, Charge Blade Phial Attacks, Sticky Ammo, Wyvern's Fire damage by 30%, also reduces Wyvern's Fire cooldown by 50%
Heavy Artillery
Level 1 – Increase Power of Ballistae and cannons by 10%
Level 2 – Increase Power of Ballistae and cannons by 20%
Mind's Eye/Ballistics
Level 1 – Prevent attacks from being deflected. Shorten Ranged Weapon critical distance
Bludgeoner
Level 1 – Increase attacks when weapons lose sharpness. Increase ranged weapons melee attacks and stunning capability
Non-elemental Boost
Level 1 – Increase attack for the non-elemental weapon (Bowgun that cannot use elemental ammo)
Elemental Airborne
Level 1 – Increase elemental damage for Jumping attacks
Elderseal Boost
Level 1 – Boosts Elderseal one level
Bow Charge Plus
Level 1 – Increase Max Bow Charge (Normally 3)
Poison Functionality
Level 1 – Let you use poison coating
Para Functionality
Level 1 – Let you use Para coating
Sleep Functionality
Level 1 – Let you use Sleep coating
Blast Functionality
Level 1 – Let you use Blast coating
Slinger Capacity
Level 1 – Increase loading capacity for ammo from plants or ground
Level 2 – Increase loading capacity for some ammo dropped from monsters
Level 3 – Increase loading capacity for all ammo dropped from monsters
Dungmaster
Level 1 – Make dung pods more effective (causing monster runaway more easily)
Leap of Faith
Level 1 – Enable Dive-evade (Superman Dive) even when facing monsters
Stealth
Level 1 – Make monster loose sight of you easier
Level 2 – Make monster loose sight of you moderately easier
Level 3 – Make monster loose sight of you moderately much easier
Flinch Free
Level 1 – Prevents Knockback
Level 2 – Prevent standard knockback, and reduce trip to a knockback
Level 3 – Nullify knockback and trip
Scoutfly Range Up
Level 1 – Widen scoutfly range
Speed Crawler

Level 1 – Raise speed when crouching
Jump Master

 

Level 1 – Nullify knockback when jumping
Sporepuff Expert

Level 1 – Recover 20 Health with sporebuff
Level 2 – Recover 35 Health with sporebuff
Level 3 – Recover 60 Health with sporebuff
Aquatic Expert

Level 1 – Prevents water from slowing movement
Level 2 – Prevents water from slowing movement and improves evasion while in water
Level 3 – Prevents water from slowing movement and greatly improves evasion while in water
Cliffhanger

Level 1 – Reduces stamina drain while climbing by 25%
Blindsider

Level 1 – Increase the success rate of flash effects
Scholar
Level 1 – Speed up the progress of research level and special investigation
Detector

Level 1 – Marks rare sites on the map
Master Fisher
Level 1 – Increase reeling time while fishing, catch large fish easier
Pro Transporter

Level 1 – Increase movement speed while carrying items and reduces dropping chances
Master Gatherer

 

Level 1 – Increase gathering speed and prevent knockback while gathering
Honey Hunter

Level 1 – One more honey per gather
Carving Pro

Level 1 – Prevent small knockback while carving
Botanist

Level 1 – One extra consumable herb per gather
Level 2 – One extra consumable herb, fruit, nut, or seed item per gather
Level 3 – One extra consumable herb, fruit, nut, seed or insect item per gather
Level 4 – One extra consumable herb, fruit, nut, seed, insect or mushroom item per gather
Geologist

Level 1 – One more gather for bone piles
Level 2 – One more gather for bone piles, special items gathering points.
Level 3 – One more gather for bone piles, special item gathering points, mining outcrops
Entomologist

Level 1 – Increases the chances of small insect corpse being left behind
Level 2 – Greatly increases the chances of small insect corpse being left behind
Level 3 – Small insect corpses will not be destroyed
Scenthound

Level 1 – Increase scoutflies gauge fill rates when investigating the monster's track
Forager's Luck

Level 1 – Increase change of respawning for gathering points
BBQ Master

Level 1 – Cook Well-done steak easier
Capture Master

Level 1 – High chance of increase capture rewards (no effect when joining mid-quest)
Good Luck

Level 1 – Good chance of increased quest rewards (no effect when joining mid-quest)