---
Strategy
Turn-based strategy (TBS)
---
PC (Microsoft Windows)
Mac
Release Date 26-Sep-2019
---
Magic: The Gathering Arena or MTG Arena is a collectible card game developed and published by Wizard of the Coast – one of those companies that grow during the popularity of card games and Dungeon and Dragon in the mid-90s.
MTG Arena PC Mac and Mobile Support
---
MTG Arena is currently available on PC (Windows) MTG Arena Mac Version is being developed and currently expected to drop in mid-2020.
MTG is originally played using physical cards and as a table game. Overtime, MTG Arena is developed for PC players who prefer to play it on Desktop.
MTG Arena – Is it Free to Play?
---
MTG Arena is free to play and including cosmetic items purchase. It is of course also including a loot boxes system where you can open for a random obtain of cards.
MTG Arena Players Base
---
Initially released in December 2017 as Closed Beta and Open Beta on September 26, 2019. MTG Arena reportedly having 3 million players all around the world as of July 2019 (Source: Bloomberg)
MTG Arena player base mostly comes from the developed player pool of the classic Magic Gathering Community – Which is often referred to as"Paper". This is originally how MTG is played.
Before MTG Arena, Wizard of the Coast also developed Magic: The Gathering Online – which is released way back in 2002. MTG Arena is supposed to be a more modern version of the Magic: The Gathering franchise.
If you just starting out (like myself) I recommend visiting the Reddit community MagicArena – This subreddit includes a variety of great guides for both beginner and seasoned players. Another of the good resource to start out the journey in MTG Arena is the community created site here (Initially published on Reddit)
MTG Arena Gameplay
---
While it is a traditional collectible card game, Magic: The Gathering Arena consists of a complex system for both new and seasoned players. If you are just starting out, MTG Arena has a tutorial that let you progress through some of the basic like Land, Attack and Toughness, as well as special effects of each card.
After finishing the tutorials, you will gain obtained five starters decks – which consist of some base cards for you to progressing through the game. These starters' decks also provides challenges before you can complete all of them.
These five starter decks also introduce one of the MTG Arena core mechanics – The color system (White, Blue, Black, Red, and Green) Below is a brief definition of all five colors in MTG Arena as well as Magic: The Gathering system.
You can check out the full definition here
White
– Using Mana from Plain
– Focus on Group and Buff
– Includes Healing and defensive Buff
Blue
– Using Mana from Island
– Often involve Air and Water Magic
– Focus on Instant Spell Card, or taking control of opponents card
Black
– Using mana from Swamps
– Drain life from opponents
– Spells are often fall into sacrifice type.
Red
– Using mana from Mountain land cards
– Focus on Fire and Earth element and has strongest attack spell
– Have powerful offense creatures like dragons.
Green
– Drawing mana from Forest land cards
– Focus on number of creatures
– Focus on buffing strength through spell
MTG Arena Formats
Currently MTG Arena is consist of several formats to play, which can be divided into to main category
Limited – Before the match, you are given a set of packs to open a random card in the current releases
Constructed – Pick out the cards in your library and construct a deck to battle the opponents.
All Formats details can be see here
MTG Arena Guides and Tutorial
---
With the history of over 20 years of rules and system, MTG Arena includes a hefty of resources on their website for new players. Below are some of the most common MTG Arena guides you can visit
MTG Arena Codes
---
As soon as you finish the Tutorial and access the home screen, you can enter promotional codes to redeem special cards. These include domestic as well as some booster pack cards that can enhance your deck. Below are some codes for starting your journey in MTG Arena
The list above is from the subreddit r/MagicArena here
Conclusion
---
If you are looking for a new collectible card games to play in 2020, and have tried out other popular titles, then MTG Arena is for you. The community is still growing and this game is still going strong for 2020 so far.
Wanting to explore Magic: The Gathering franchise? Check out our below post on some games that coming from the same cloth.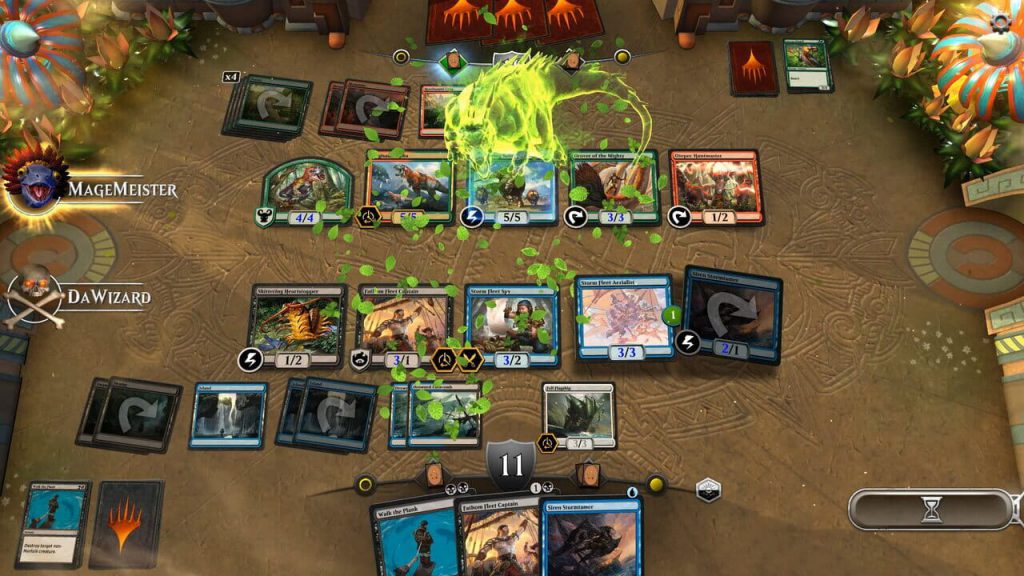 MTG Arena – One of the best card games for 2020.
PC (Microsoft Windows)Mac   Release On 26-Sep-2019 Magic: The Gathering – Arena is a free…