Similar to the best Hammers guide before, this is mostly personal opinion base on the damage and … the look of the weapon! If you don't agree with me, drop a comment below!
MHW Iceborne Sword and Shield – What are the changes?
The most impact change in the current meta to me is the focus on elemental damage. That does mean you can now build up an anti set for each of the monsters you are going to hunt. This is way more effective than the previous Raw Damage meta (Yes! Goodbye Drachen set)
With that said, for SnS, below will list out the best weapons for each elemental as well as some weapons for the general usage (When you don't feel like going all out for just Fire or Ice)
MHW Iceborne Best Sword and Shield [Blast]
Blast is technically not an elemental status, but for a fast-hitting weapon like SnS, this is still a very powerful status to pick, and the
Booming Barrage (Brachydios)
Starting off the list is one of my favorite Sword and Shield in Iceborne. This SnS crafted from Brachydios material and definitely in line with the monster element – Blast.
Dios Edge (The previous version of this weapon) is also pretty easy to make and can be used till you finish the main story of Iceborne.
Boomin Barrage gives you 350 Damage and 360 Blast Damage with one Level 1 Slot for an attack jewel (Or Blast – depend on your current setup)
Booming Barrage Material
Distilled Blast Fluid x 3 – This dropped from that Seething Bazelgeuse!
Brachydios Crown x 3 – Break the Brachydios head!
Fine Brachydios Ebonshell x 4 – Obtain as quest rewards or during the hunt.
Brachydios Pallium x 1 – Simply consider this as the monster's gem.
STRENGHT
WEAKNESS
– Awesome Design
– Blast is one of the main weakness of new monsters
– Universal usage
– Dios Edge can be used pretty early
– Hard to craft
– Moderate Damage
– Only Level 1 Slot
MHW Iceborne Best Sword and Shield [Raw Damage]
Simply add up the Raw Damage is still viable, you just need to use your Clutch Claw more! Even when you cannot perform the Flinch Shot, damaging the monster part will still increase your damage, as well as the Affinity for that part.
Acid Razor II (Acidic Glavenus/ Glavenus)
Glavenus came back with it's subspecies as well. This pair will be your nightmare during some of the first hours in Iceborne. In return, Acid Razor II is one of the highest SnS in MHW Iceborne.
Simply slot in a Level 2 Elementless to your armor, added more customization with the level 4 jewel slot on the weapon, and you are good to go.
Acid Razor II Materials
Vaal Hazak Hardclaw x 2 – Breaking the "new Vaal Hazak claw"
Acidic Glavenus Hardfang x 4 – Breaking Acidi Glavenus hard fang
Acidic Glavenus Spineshell x 3 – Obtain as a reward for hunting Acidic Glavenus
Glavenus Mantle x 1 – Again, just another name for the gem
STRENGHT
WEAKNESS
– Highest Damage SnS
– 0% Affinity
– Moderate Challenge to Craft
– Level 4 Jewel Slot
– Generic Design (The Slap on Design!)
– Lower Sharpness
Fate's Shear (Savage Deviljho)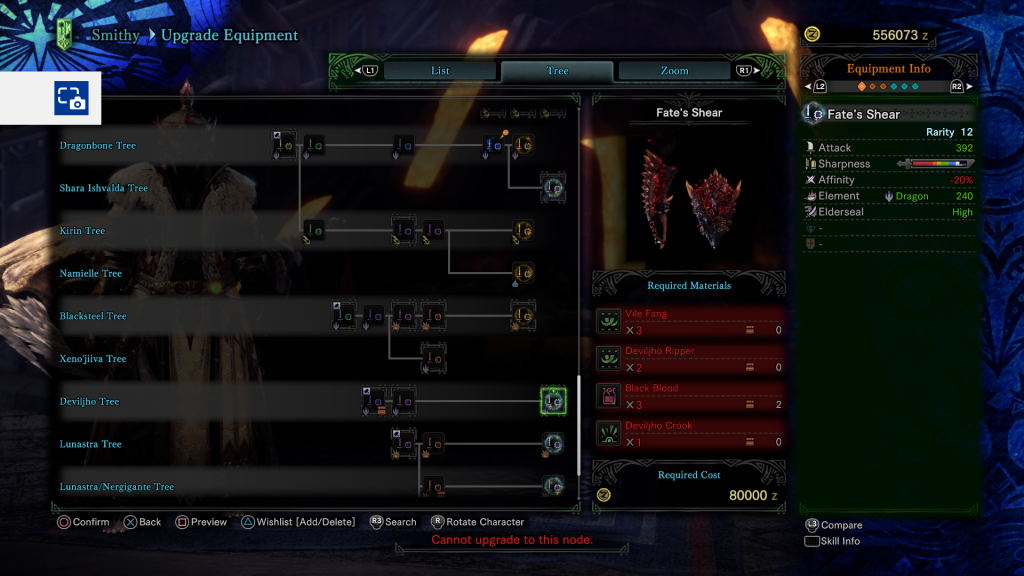 Fate's Shear Materials
Vile Fang x 3 – Breaking the Deviljho head!
Deviljho Ripper x 2 – The Claw!
Black Blood x 3 – Often obtain as a reward for Savage Deviljho
Deviljho Crook x 1 – The GEM!
STRENGHT
WEAKNESS
– High Damage
– Sick Design
– Minus Affinity
– No Jewel Slot
– Low Dragon Element
Manifested Lotus (Shara Ishvalda)
This is the weapon of the final boss, and yes, this looks beautiful
Manifested Lotus Materials
Shara Ishvalda Tenderclaw x 4 – Breaking the claw
Shara Ishvalda Tenderscale x 6 – Quest rewards
Shara Ishvalda Tenderplate x 2 – Dropped in the first phase
Shara Ishvalda Gem x 1 – Your Luck!
STRENGHT
WEAKNESS
– Unique Design
– High Damage
– Defense Bonus
– 450 Dragon Element (Hidden)
– No Level 4 Jewel Slot
– Hard to craft
MHW Iceborne Best Sword and Shield [Elemental]
Ice – Nephilim Glacia [Shrieking Legiana/Legiana]
This annoying pair of monster will provide you the highest Ice SnS, but well, you will need to go through those annoying scream.
Nephilim Glacia materials
Velkhana Hardclaw x 2 – Breaking the front leg of Velkhana
Obsidian Icetalon x 4 – This only comes from Shrieking Legiana
Stark Wing x 2 – Shrieking Legiana Wing
Legiana Mantle x 1 – The Gem. Again.
STRENGHT
WEAKNESS
– Highest Ice SnS
– Look good
– The killer for Teostra/Lunastra/Brachydios…
– No Level 4 Jewel Slot
– Base Damage is low
Ice – Noble Ana Palas [Velkhana]
If you don't like to fight the Legiana, this one can be used instead. The Velkhana's Sword and Shield is also looking better.
Noble Ana Palas Materials:
Shara Ishvalda Tender Claw x 3
Velkhana Crownhorn x 4
Velkhana Hardclaw x 4
Velkhana Crystal x 1
STRENGHT
WEAKNESS
– Level 4 Jewel Slot
– High Base Damage
– Lower Ice damage compare to other Ice SnS
– Hard to craft
Water – Laguna Blossom II [Coral Pukei-Pukei]
Laguna Blossom II Material
Acidic Glavenus Hardfang x 2 – Breaking the monster fang
Monster Solidbone x 3 – Rarer gathering spot and from Guiding Land
Large Coral Pukei-Pukei Sac x 1 – Breaking Coral Pukei-Pukei Face!
Coral Pukei-Pukei Lash x 1 – Cutting his tail.
STRENGHT
WEAKNESS
– Easy to craft
– Strong against Teostra/
– Level 2 & Level 1 Jewel Slot
– Low Base Damage
– Ugly
Thunder – Legendary Bang [Master Bang Upgrade]
This weapon gives me nostalgic. As the first MHW Guide, I covered feature the Master Bang as the main weapon. I would say the look of this is not changing much aside from the gold plating and some nice insignia on the shield.
Legendary Bang Material
Conqueror's Seal x 1 – Obtain by finishing some of the big quest (Ishvalda)
Daora Hard Claw x 1 – Breaking Daora front claw
Bazelgeuse Hardclaw x 3 – Breaking Bazelgeuse claw
Large Wyvern Gem x 1 – From Flying Wyvern like Legiana
STRENGHT
WEAKNESS
– Purple Sharpness
– Moderate Damage
– The best weapon to highlight SnS features
– 450 Thunder (Hidden)
– Defense Bonus
– Color Swapping design
– No Level 4 Jewel Slot
– Need that ugly Kirin paint if you want to use the Hidden Element
Where is Fire & Poison?
Personally, I haven't tried out the Poison SnS, but I feel it's not as cool as Blast. As for Fire, the Highest Fire SnS is the Anjanath Tree, but it is plagued with minus Affinity.
And while Fire is useful against Velkhana and the like, I found it is not as universal. I will update this section though.
Conclusion
If you want a quick and easy way to play SnS, the Acidic Glavenus SnS is your pal, pair this with Critical Eye and Handicraft, as well as some Attack Boosts and you are good to go.
For me, the easiest weapon to pick is definitely the Booming Barrage. This is mainly because Blast is easy to use to almost all of the monster (Except that annoying Seething Bazelgeuse and Brachydios of course)
For MHW Iceborne Sword and Shield, you have the power of variety. This means you probably will need all of the elemental SnS to enjoy the hunt to the fullest.
Finally, don't forget the new Armor Skills Element Acceleration/ True Element Acceleration (Activate by wearing 2 and 4 pieces of Namielle armor set) This will power up some of your weapon that has hidden element. And with SnS fast attack speed, you can utilize the best of both Raw Damage Build as well as the elemental damage!
I am currently missing the Ruiner Nergigante variance of the SnS! Better hunt that bastard. I will update this compilation as soon as I fill in some of the last material for SnS