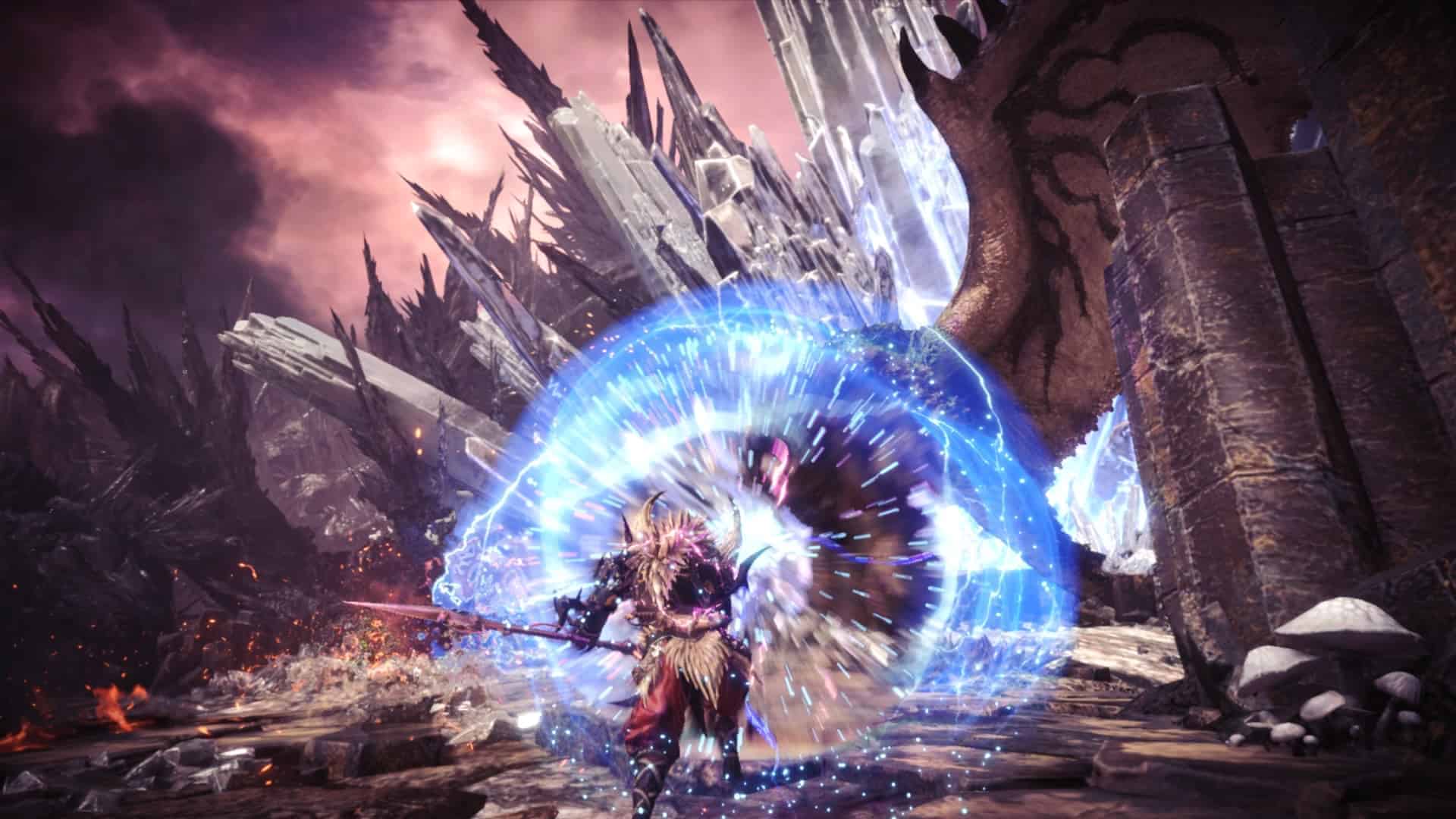 MHW Augment Guide
So here we are. At the range of HR 30 to 50 Struggling with almost any monsters MHW has to offer, I was at this stage when I first move to HR 50+ Almost any hard-hitting Tempered Monster give me a headache once or twice until I finally know all their moveset or occasionally team up with other hunters.
HR 50 for me is like a wall sometime.  You wanna go out there to get some awesome jewels to power up your hunter. But, but mosnters hit like a tank! It's just how the game forces us to be HR 1 again, fresh new to the "Uber" New world.
Anyway, it was designed to be a cap when you are introduced to another mentioned-but-not-explain-so-well in game. This is where MHW Augmentation comes in. Basically, it's a way to upgrade your weapon more – given you have all the fancy materials.
MHW Augment Guide – Pre Condition
My problems with the all the MHW Augment Guides I read was that no clear indication on how to access this menu at all. We know it is at the blacksmith, but I go check and there was none. After some random Tempered Monster hunt, something happens, and this is how I got the menu to appear.
Here is the requirements to unlock this:
Completing the first Tempered Mission – Your first tempered monster is Pukei Pukei – This is your first introduction to Temperered Monster and this is also classify as Level 1 Threat.
Completed the Tempered Monsters Hunt Mission at HR 29 – Hunting two Bazelgeuse – This will unlock Tempered Monster Hunting.
After completing this mission, you will unlock subsequent tempered monsters hunt by registering Investigation which this group at Tradeyard.
Upon completing these missions you will pick up Stream Stones of three types
Next of will be completing Kirin Tempered Hunt Mission at HR 49

– This will unlock subsequent Tempered Mission of Elder Dragon. These missions will have a higher chance dropping Stream Stones and other more rarity gems.
Finally, to see the Augmentation menu for the first time

you need to pick one of the

"Sullied Stream Stone"/ "Shiny Stream Stones"

These Stream Stones will then be appraised (Similar to jewels and give you the following:
MHW Augment Guide – Stream Stones list
| | | |
| --- | --- | --- |
| Sullied Stream Stones | Shiny Stream Stones  | Allow Weapons for augmentation |
| Warriors's Stream Stone: Sword | Hero's Stream Stone: Sword | Great Sword, Long Sword |
| Warriors's Stream Stone: Blade | Hero's Stream Stone: Blade | Sword & Shield, Dual Blade |
| Warriors's Stream Stone: Hammer | Hero's Stream Stone: Hammer | Hammer, Hunting Horn |
| Warriors's Stream Stone: Lance | Hero's Stream Stone: Lance | Lance, Gun Lance |
| Warriors's Stream Stone: Axe | Hero's Stream Stone: Axe | Charge Blade, Switch Axe |
| Warriors's Stream Stone: Shaft | Hero's Stream Stone: Shaft | Insect Glaive, Bow |
| Warriors's Stream Stone: Ranged | Hero's Stream Stone: Ranged | Heavy Bowgun, Light Bowgun |
Upon picking these up, when you return to Astera. There will be an exclamation mark at the Black Smith. He will informed you about the power of these stones and allow us to select the Augment Equipment from now on.
These streams stone can only be found in Tempered Mission. And the higher the threat, the better. This is another information that was not well presented in game. But Threat level can be identified base on the following.
| | | |
| --- | --- | --- |
| Threat | Hunter Rank | Typical Monsters |
| Level 1 | 13+ | Pukei-Pukei, Tobi-Kadachi, Anjanath, Barroth, Jyuratodus, Rathian, Paolumu, Radobaan |
| Level 2 | 30+ | Rathalos, Azure Rathalos, Pink Rathian, Diablos, Black Diablos, Bazelgeuse, Uragaan, Lavasioth, Legiana, Odogaron |
| Level 3 | 50+ | Kirin, Teostra, Kushala Daora, Nergigante, Vaal Hazak |
When you take on these Tempered Mission, take a note at the HR Level requirement, you can quicly tell what is the threat level of the mission.
MHW Augment Guide – What does it do?
Well, as a tradition and policy of RPG games, you will need to upgrade your weapons and armor constantly, to the endless boredom until you are tired with the game or just simply don't want to play anymore.
Many games provide this by dividing the rarity of loots into fancy label as Legendary, Epic… (Yes, Diablo I am looking at you) For Monster Hunter World, we have Augmentation system. Where you can further upgrade your armor with shards you spend time gathered.
After unlocking Augmentation Menu as shown above, you will need to upgrade your piece of armor to max. Choosing to Augmentation for an amor will result in this menu:
As the name say, this will allow your armor to have more level of upgrade (To the total of 11) And increase the Defense stat. Pretty straight forward
For Weapon specifically, this system allow you to imbue them with more variation which is show in this menu:
Below is the details of each Upgrade
| | |
| --- | --- |
| Augmentation Types | Effect |
| Attack Increase | +5 To Damage (True Damage) |
| Affinity Increase | Increase 10% Affinity |
| Defense Increase | +10 To Defense |
| Slot Upgrade | Add one more Slot |
| Health Regen | Regen HP once you hit the monsters. |
However, as the famous stream stones says, you will need to have the correct types of Stream Stones to upgrade your beloved weapon. Where to find them you ask? Well, it's the same place where you pick up that Nergigante's Gem for the first time. It's in the cosmic universe of Random Generated Loot. Meaning it's entirely depends on your luck at that day.
With that said, we do have a list of hunting quests that has higher chance of dropping that sweet fancy stones:
Tempered Monster Hunt – Level 2 threat – This will have a low rate of dropping Sullied Stream Stones – allow you to get Warrior Stream Stones.
Tempered Elder Dragon Hunt – Level 3 Threat This is the best, given you have the power/ or consistency for it. These beasts will avenge you the time you give them at HR. This increase the chance of dropping Sullied Stream Stones as well as allow you to touch the sweet Hero's Stream Stones. 
Yes, for augmentation of weapons, Threat level 1 mission won't yield anything fancy. If you want to unlock the menu the first time, your go to goal should be any threat level 2 missions. For Level 1 Threat, you will still had a high chance of dropping jewel for decorations and Stream Stones + Gleaming Stream Stones for materials of other upgrade.
MHW Augment Guide – What's next?
Huh, you still playing? OK After fully augmenting your weapons and armors. You can try to switch weapon, going for it's Stream Stone once more time, and repeat the process. Or go on help those new hunters to get their first MHW Augmentation in SOS. Monster Hunter World is more fun when you reach HR 50 – Where most hunters is struggling for their first time unlocking the MHW Augmentation menu. Thanks to the monsters variation, this process is not so boring to many hunters and this is what keeping the game fresh.
As Monster Hunter World has been out for PC for quite a while. There maybe some hunters questioning about this system. Hope this help you guys to understand an interesting mechanic of Monster Hunter World. This is a end game system though, don't focus too much on this when you are still progressing the story. Enjoy the hunt!