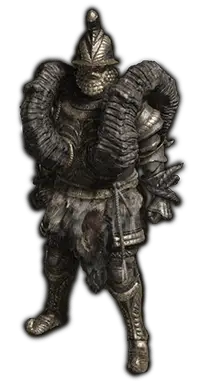 Bull-Goat Set
---
Defense & Resistance
Defense
Phy: 45
VS: 40
Strike: 6
Slash: 2
Pierce: 2
Magic: 28
Fire: 9
Ligt: 29
Holy: 4
Resistance
Immunity: 170
Robustness: 197
Focus: 110
Vitality: 130
Poise: 100
Bull-Goat Set is an Armor Set in Elden Ring.
Elden Ring Bull-Goat Set in-game description
Great Horned Tragoth's armor. Covers its wearer with a pair of giant horns, providing staunch poise. 

Tragoth is a famed knight of assistance. Countless Tarnished, facing adversity in the Lands Between, have survived thanks only to the Great Horned One's aid. 

Armor Set often provided bonuses to skills and other effects. The weight of the full set is 63 Weight
How to find Bull-Goat Armor
Can be found after killing Patches' assassination target for the Volcano Manor. You will need to defeat Great horned Tragoth
Bull-Goat Set Bonus
---
Bull-Goat Armor is often used in many Elden Ring Strenght Build. This Armor set requires some investment in Strenght to carry the weight. With that said, Bull-Goat Armor is also one of the best Heavy Armors in Elden Ring. 
All Bull-Goat Set pieces in Elden Ring
---
Bull-Goat Helm
---
Defense & Resistance
Defense
---
Phy
:
7VS
:
7Strike
:
7Slash
:
6Pierce
:
6Magic
:
7Fire
:
4Ligt
:
7Holy
:
4
Resistance
---
Immunity
:
31Robustness
:
35Focus
:
20Vitality
:
23Poise
:
15
Bull-Goat Armor
---
Defense & Resistance
Defense
---
Phy
:
20VS
:
3Strike
:
20Slash
:
18Pierce
:
18Magic
:
3Fire
:
13Ligt
:
3Holy
:
13
Resistance
---
Immunity
:
71Robustness
:
83Focus
:
46Vitality
:
55Poise
:
47
Bull-Goat Gauntlets
---
Defense & Resistance
Defense
---
Phy
:
5VS
:
6Strike
:
5Slash
:
4Pierce
:
4Magic
:
6Fire
:
3Ligt
:
3Holy
:
3
Resistance
---
Immunity
:
24Robustness
:
28Focus
:
15Vitality
:
18Poise
:
10
Bull-Goat Greaves
---
Defense & Resistance
Defense
---
Phy
:
11VS
:
6Strike
:
11Slash
:
10Pierce
:
10Magic
:
6Fire
:
7Ligt
:
6Holy
:
7
Resistance
---
Immunity
:
44Robustness
:
51Focus
:
29Vitality
:
34Poise
:
28