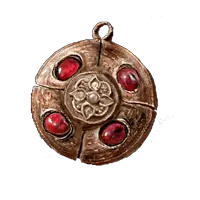 Elden Ring Crimson Amber Medallion Guide
Crimson Amber Medallion
---
Crimson Amber Medallion Weight
Affinity : 0.3
---
Crimson Amber Medallion Effects
Affinity : Raises maximum HP 6% (Base)
Crimson Amber Medallion is a Talisman in Elden Ring. 
Talisman provides effects and buff when equipped in Equipment slots, you can equip two Talismans at the same time
Crimson Amber Medallion Effects – Raises maximum HP
How to find Crimson Amber Medallion in Elden Ring
Crimson Amber Medallion can be purchased from Nomadic Merchant at Weeping Pennisula (Near the walking mausoleum – cannot miss it) 1500 Runes
Crimson Amber Medallion can also be selected as a base talisman during Character Creation
Crimson Amber Medallion +1 Location
Volcano Manor. Go to Prison Town Church Site of Grace. There will be a Fog gate that requires a Stonesword Key. Talisman is on a dead body behind an enemy. 
Crimson Amber Medallion +2 Location
Near end-game area. Spoiler warning 
---
Crimson Medallion Build Guide
Crimson Medallion increases your HP by 6% with the default version. Crimson Medallion +1 will increase HP by 7%, and 8% for the +2 Version
Crimson Medallion is a great addition in some Elden Ring builds that requires a large chunk of HP (Any Tank build that wants to tank through some attacks)
As it does not have any benefit to damage, it is most popular in early builds.