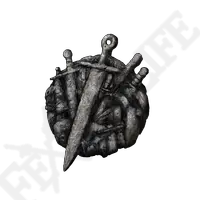 Arsenal Charm
---
Arsenal Charm Weight
Affinity : 1.5
---
Arsenal Charm Effects
Raises maximum equipment load (15%/17%)
Arsenal Charm is a Talisman in Elden Ring.
Talisman provides effects and buff when equipped in Equipment slots
Arsenal Charm Effects – Raises maximum equipment load (15%)
How to find Arsenal Charm in Elden Ring
---
The base version is given to you by Nepheli Loux. This NPC first appears in Stormveil Castle on the main path to the boss. If you speak to her at this time, she will assist you during the boss fight. Afterward, she will go back to the Round table hold. Speak to her again to obtain this talisman.
Arsenal Charm +1 Location
Located in Atlus Tunnel in Altus Plateau.
Arsenal Charm Build
---
Arsenal Charm is mostly used in builds that utilize both Medium Armor and Heavy Armor. This can helps add some mobility back to these builds (For medium rolls) 
Similar to other Elden Ring Crimson Amber Medallion Arsenal Charm is more suitable for early-game builds, where you don't have enough attributes to wear armor. In NG+ and subsequent runs, most builds will focus on the damage and effectiveness of spells, thus making this Charm kind of useless