Looking for Pre-Fatalis Great Sword build? Check out our previous guide for Great Sword.
Fatalis Great Sword | Black Fatalis Blade
---
Despite being a Dragon Element sword, the 1632 Base Damage from this Great Sword making it the best Raw Damage Great Sword in the game now. To limit the power of this blade, it comes with -30% Affinity.
Fatalis Armor
---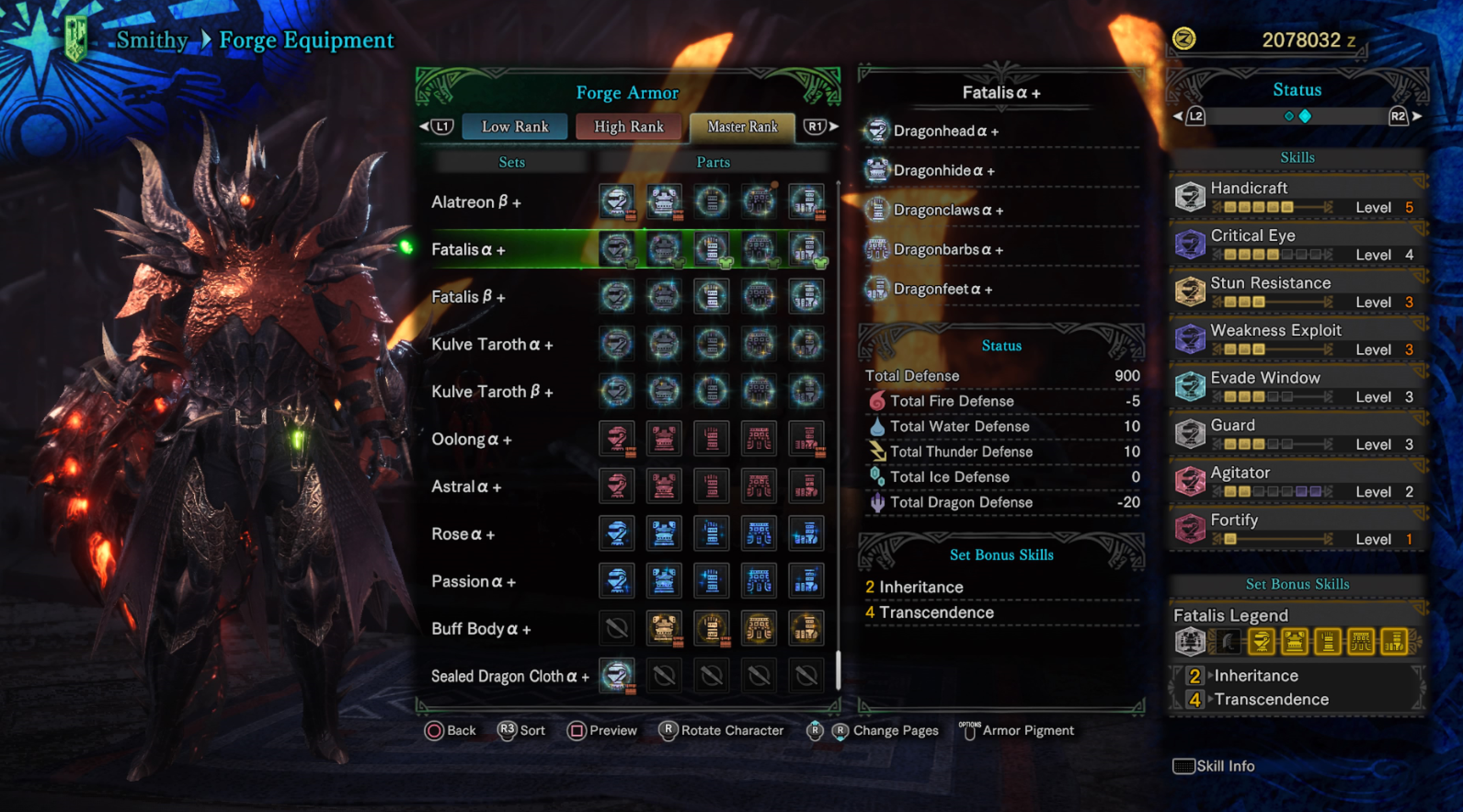 Aside from giving you the best decoration slots available, Fatalis bonus skills Inheritance and Transcendence unlock the level cap of any Secret Skills (Divine Blessing, Free Meal…) as well as boosting your HP/ Stamina to it's max level when you start the fight.
Did I mention True Razor Sharp/ Spare Shot? Yes, Transcendence bonus also gives you this.
You are good to go with 4 pieces of Fatalis armor. As Dragonhead provides you with Stun immunity, most players choose this in their build.
Arch Tempered Velkhana Armor
---
AT Velkhana is the answer from Capcom for all those Frostcraft hunters. This time the full AT Velkhana armor set comes with all the skills you need for a powerful Frostcraft build.
If you want a new spin on Great Sword build, check out the Frostcraft GS Build section below
Fatalis Great Sword Builds
---
Quick Sheath can enhance your Great Sword gameplay significantly, making Rimeguard Greaves Gamma (Arch Tempered Velkhana) a perfect pick for an optimal Great Sword build. For some build below, Frostfang armor was used for Punishing Draw, so pick the part according to your preference
Fatalis Great Sword Build #1 | Quick Sheath + Peak Performance
---
AT Velkhana Leg provides you a free level 2 Quick Sheath along with a max out Peak Performance, add in a Sheath/ Attack Jewel 4 and you are good to go. The rest is your typical Great Sword Skills (Focus, Expert, Challenger…)
With Fatalis Armor, you can now max out Divine Blessing along with other utility skills. This build pick both Evade Extender and Evade Window as a
Fatalis Great Sword Build #2 | Punishing Draw + Peak Performance
This build is for those who want to stun the monster with Great Sword.
Frostfang Helm Beta is the best armor part for this job. You also get a free Critical Eye x 2 in the process. Peak Performance, Focus and other Attack skills are maxed out as usual. You also got level 5 Divine Blessing, making this build the best option when you need a general build for all monsters.
Fatalis Great Sword Build #3 | Frost Craft Fatalis Build
The infamous Frostcraft Great Sword build is back!
With AT Velkhana, you can now enjoy the DPS bonus from Frostcraft along with several powerful skills (Focus 3, Quick Sheath , Critical Draw & Coalescence 3) Simply equip the full AT Velkhana set for all those skills.
This build drops AT Velkhana gloves for Frostfang Bambraces Beta. This is for Punishing Draw bonus from Frostfang Barioth. This skill add a significant amount of damage to your first attack.
Quick Sheath 3 let you trigger the Frostcraft bonus easier, open the room for moar damage.
The main problem with this build is definitely the lack of Health augmentation on Black Fatalis Blade. This is because the -30% Affinity will eat out a lot of your damage, making a build with your typical Augmentation does not worth it. This build is recommended for experience Great Sword hunters, as you don't have any recovery mechanism on the build.
MHW Fatalis Meta Guide