Check out the Pre Fatalis Hammer Build here. In this post, we will cover the current meta builds for Hammer, of course it is Fatalis, but read on for more detail on why Fatalis provides the best Hammer builds since the release of MHW Iceborne.
Fatalis Armor
---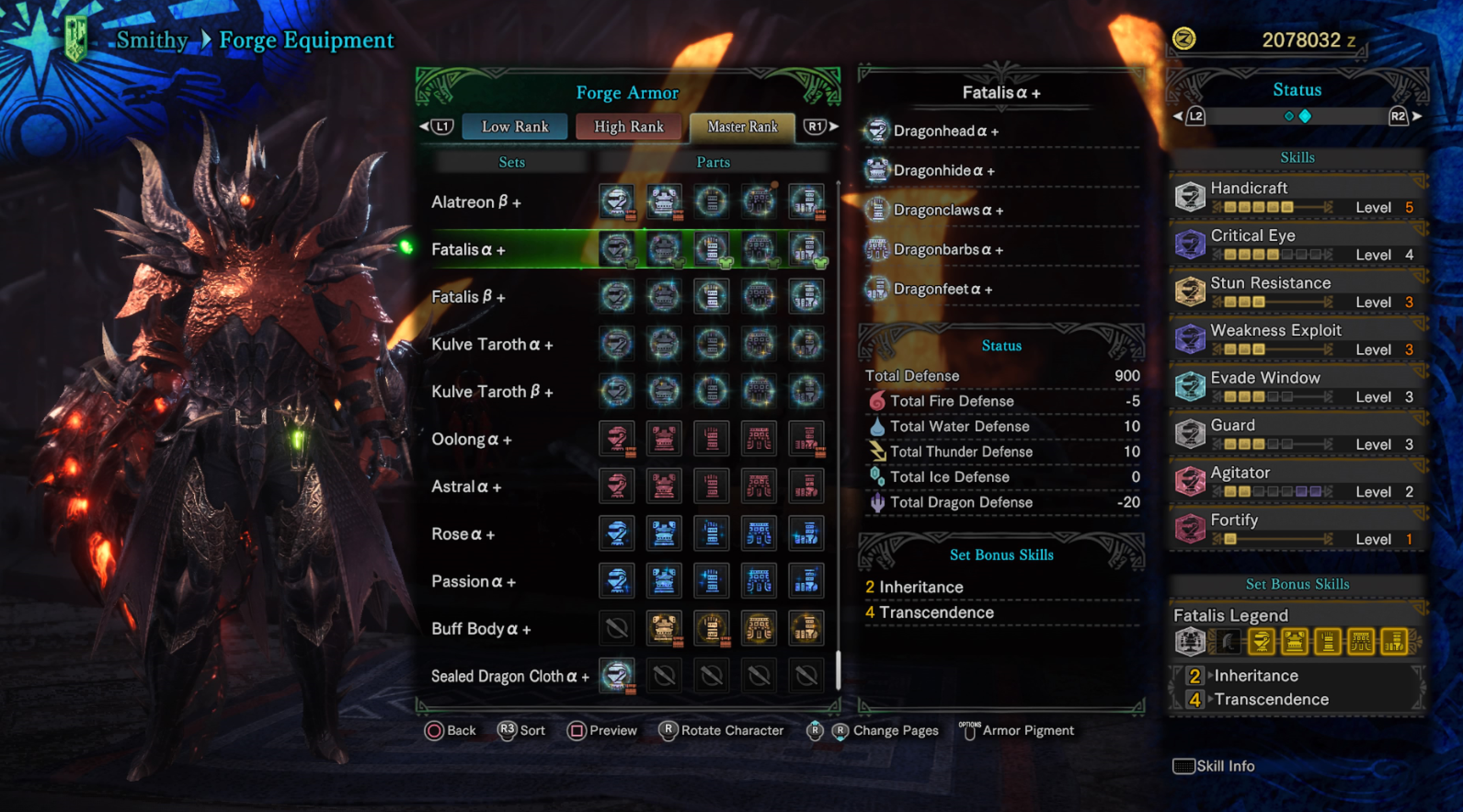 Aside from giving you the best decoration slots available, Fatalis bonus skills Inheritance and Transcendence unlock the level cap of any Secret Skills (Divine Blessing, Slugger…) as well as boosting your HP/ Stamina to it's max level when you start the fight.
Did I mention True Razor Sharp/ Spare Shot? Yes, Transcendence bonus also give you this.
Fatalis Hammer | Fatalis Demolisher
As the name says, this is the best Hammer in MHW at the moment. Fatalis Hammer comes with 1820 Base Damage & 150 in Dragon Element. The highest number in Hammer weapon tree.
Fatalis Demolisher's materials
Large Elder Dragon Gem – Randomly obtained after slaying Elder Dragon.
Fatalis Pectus – Break Fatalis's chest
Fatalis Hardhorn – Break Fatalis's Horn
Fatalis Evil Eye – Break Fatalis's head (2nd Time)
Arch Tempered Velkhana | Is it meta?
---
Releasing Fatalis before Arch Tempered Velkhana almost makes the Ice Dragon lose the spotlight. The main reason is Fatalis Weapons and Armor set is so overpower that some players treat this Arch Tempered version as a chance to flex the new meta
Don't believe me? Check out this dude bash the soul out of the poor Ice Dragon.
While the full Velkhana Gamma armor set does not offer anything new in particular, Velkhana Gamma Greaves (Rimeguard Greaves) is used in almost all the meta build now thanks to it's maximum Peak Performance and a nice utility skill (Quick Sheath 2)
Quick Sheath – While it does not directly increase your DPS. The sheathing animation speed up can help bulky weapon like Great Sword, Hammer, Lance or Gunlance to save a lot of time for using potions or items. This also syncs pretty well with skills like Punishing Draw or enhance Frost Craft gameplay.
Fatalis Hammer Builds Compilation
---
With Fatalis's Inheritance, you can come up with the whatever you want for Hammer Builds. Depend on your playstyle you can opt for more QoL skills (Divine Blessing, Evade Window) or a full blown DPS build
Fatalis Hammer Slugger Build
---
It's always a novelty to try out the Slugger Level 5 on Hammer. The trade-off for Diablos's or Frostfang Barioth armor to unlock Agitator Secret is pretty big, so most players prefer to just stick with the Master Touch + Agitator meta
With Fatalis those days have come to an end. Simply equip Frostfang Greaves Alpha along with 4 pieces of Fatalis.
Fatalis Hammer Slugger Build (Frostfang Greaves)
For a quick n dirty Slugger build, Frostfang Greaves Alpha can do the trick. With the base Slugger +3, you only need two KO/Protection Jewel to maximize the Stunning capacity of Hammer.
This free up 2 level 4 Decoration slots. In this build, I used Jumping/Evasion Jewel 4 for a quick boost to Hammer's mobility. If you prefer more damage, a Dragon Jewel 4 can be used (This is recommended for monster that have good elemental hitzone, if not, stick to the standard build above)
Fatalis Hammer Slugger Build (Rimeguards Greaves Gamma)
Already beat Arch Tempered Velkhana? Use this build. This build drop some Attack Boosts for Peak Performance 3. You will also need 5 x KO/Protection Jewel to max out Slugger and Divine Blessing.
Fatalis Hammer Damage Build
Coalescence 3 is achieved with Phoenix/ Protection jewel. However, these jewels are pretty hard to come by, you can easily get Coalescence by using Rimeguard Helm Gamma
MHW Fatalis & AT Velkhana Meta Build Guide
---