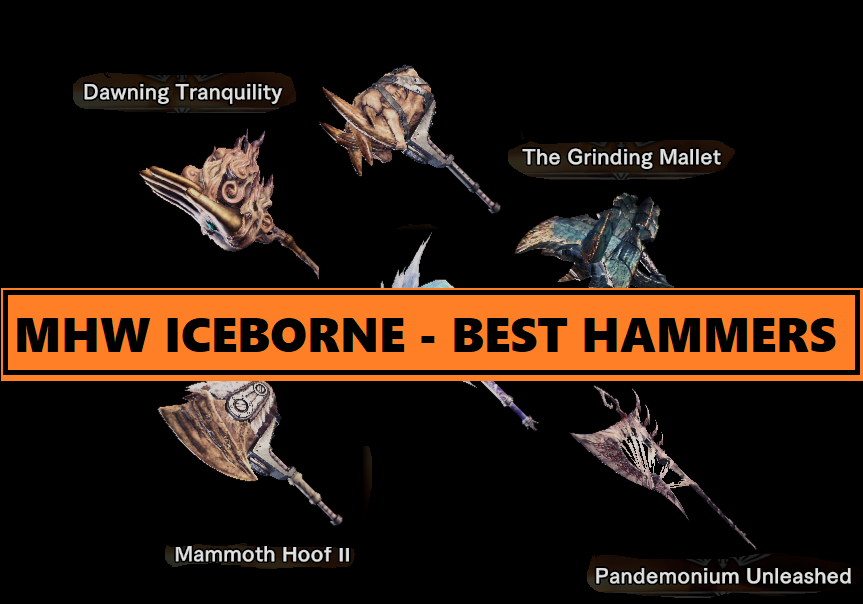 After my last guide for the Hammer, I decide to step up the hammer gameplay by going through the hammer weapon tree some of the best hammers. This list base on the damage and Affinity of Hammer, as well as the design of these weapons.
And if you need an example, here is the worst design so far:
Fortunately, Hammers this time is one of those weapons that still keep almost all of the good designs. Most of them feature the basic feature of the monster, and some are decorated with very unique design!
Makhlab al-Nasr I
This was the very first hammer I picked when starting the journey with MHW Iceborne, and the stat is really impressive for a weapon crafted from the Kulu Yaku's material.
You can craft the first version of this hammer as soon as you start the journey in Hoarfrost Reach. Simply hunt a few Kulu Yaku and you can finally drop those Diablo Hammers out of the way!
Makhlab al-Nasr I Materials
Large Kulu-Ya-ku Beak x 3
Kulu-Ya-ku Thickhide x 4
Kulu-Ya-ku Shard x 5
Fey Wyvern Gem x 1
These materials are dropped almost 90% for every Kulu Yaku hunt. The only rare material is the Fey Wyvern Gem, however, I found this gem is pretty easy to get if you perform investigation quests.
For me personally, finishing the main story for Icebore yield around 4 of these gems.
STRONG
WEAKNESS
– Easy to craft
– High Affinity
– Good Base Damage
– Don't have jewel slot.
– May get outdated later game.
– Hidden Element is Sleep.
Mammoth Hoof II
Cope with it's gigantic size, the Banbaro's hoof can be carved to become your hammer and the neat thing? It lives in the same weapon tree with the Kulu Hammer.
If you want a quick comparison between two hammers, simply roll back the upgrade and try out each one of them.
Mammoth Hoof II Materials
Monster Solidbone x 4 – Common material in Bone Gather Spot
Banbaro Great Horn x 4 – See those gigantic horns? You know what to do
Banbaro Lash x 1 – Cut the big antler tail!
Dragonbone Artifact x 1 – Rare material from Bone Gather Spot
STRONG
WEAKNESS
– High Damage
– 1 Level 4 Slot
– It's really the Banbaro's Hoof!
– The same tree with Kulu Hammer
– A moderate weapon.
– A little ugly.
Right after you finish the introductory mission with Banbaro, you can start to farm him for this hammer. This hammer doesn't have high affinity, but give you one level 4 jewel to power it up with more armor skills.
Need more stunning power? There are some new shiny level 4 jewels that give you both Slugger and an additional skill.
The Grinding Mallet
The Grinding Mallet Material
Vaal Hazak Hardclaw x 2
Acidic Glavenus Hardfang x 4
Acidic Glavenus Spineshell x 3
Glavenus Mantle x 1
This one is definitely a little harder to make compared to other hammers in the list. You will need Glavenus Mantle (Both Glavenus and Acidic Glavenus can drop this)
Mantle is a new material in MHW Iceborne, which is quite similar to gem (in term of drop rate)
STRONG
WEAKNESS
– High Damage
– 1 Level 4 Slot
– Hidden Element is Paralysis
– Zero Affinity
– Low Weakness Bar
The Grinding Mallet is definitely one of the best hammers for your next Raw Damage Hammer build. Compare to the minus Affinity Diablo Hammer in MHW, this is on another level.
The only weakness of this hammer is the low Weakness Bar it has. This is the same vein as the Diablos Tree back in MHW. For the best build with this hammer, you will surely need those Handicraft armor skill.
MHW Iceborne Elder Dragons Hammers
As usual, the Elder Dragons in MHW Iceborne also provide the best weapon in both design and utilities
Velkhana Hammer – Victorious Northlein
I think this design is a little lazy, it's basically the iron hammer and put in some ice from the Velkhana!
Victorious Northlein Material
Shara Ishvalda Tender Claw x 3 – Breaking The final boss claw
Velkhana Crownhorn x 4 – Break Velkhana Horn (Head)
Velkhana Hard Claw x 4 – Breaking Velkhana Claw
Velkhana Crystal x 1 – The "Gem" of Velkhana, this entirely depends on your luck.
STRONG
WEAKNESS
– High Damage
– 1 Level 4 Slot
– High Ice Damage
– A moderate weapon
– Require some time to get all the material
Strong again monster like Brachydios,
Dawning Tranquility
Want to Bitch Slap those elder dragons with the buddha palm?

Pick the Dawning Tranquility
I think this design can win the contest for the best weapon design in the gaming world…
The final boss of MHW Iceborne is a limited quest similar to the like of Xeno'jiiva, but the whole armor set and weapons of this boss is handown the best looking equipment in the entire MHW Iceborne.
With a heavy focus on Buddhism, all weapon design of Shara Ishvalda follows the theme pretty closely. The hammer is styled follow the palm of the buddha. Imagine using this to slap the sh**t out of Velkhana or Nergigante!
Dawning Tranquility Materials
Shara Ishwalda Tender Claw – Obtain by breaking the Ishwalda claw
Shara Ishvalda Tender Scale – Obtain by carving or quest rewards of fighting Ishwalda
Shara Ishvalda Tenderplate – This is slightly harder to obtain as you need to break the head of the monster – which is quite harder to target on phase two.
Shara Ishvalda Gem – Again, depending on your luck on certain day
STRONG
WEAKNESS
– High Damage
– Hidden Element is Dragon
– Two Level 1 Slots
– Defense Bonus
– The look is the best!
– No Level 4 Jewel Slot
MHW Iceborne Best Hammer?
It is pretty easy to pick hammer as a weapon in Monster Hunter. This is thanks to the straight forward playstyle and the damage of this weapon.
In general, if you want to have a good time without worrying much on jewels and stuff, simply pick the Grinding Mallet and slot in one Elementless Jewel. The rest of the armor skills are similar to all other melee weapons builds.
However, as MHW Iceborne focus more on elemental damage, don't forget those hammer like the Velkhana Hammer – Victorious Northlein, these hammers can give you more advantage than you think!
Finally, with new armor skill like Element Accelerator & True Element Accelerator (Namielle x2 & x 4 Armor set bonus) – you can now combine the Elementless build with the Hidden Element activation and get the best of both worlds!