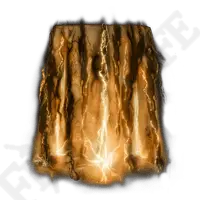 Death Lightning
---
Death Lightning Requirement
Intelligence: 0
Faith: 47
Arcane: 0
---
Death Lightning Effects
Strikes surroundings with storm of death lightning
---
Death Lightning FP Cost & Slot
FP : FP Cost 28
Slot: Slots Used 2
Incantation that channels the power of the ancient dragon
Fortissax, now corrupted by Death.

Strikes surroundings with a storm of Death lightning.
Inflicts Death blight upon foes.
Charging extends duration of the storm.

It said that this golden lightning was wielded by Godwyn, who
befriended Fortissax.
Death Lightning is a Dragon Cult Incantations Magic Spells in Elden Ring. Death Lightning cost FP Cost 28 to cast and require Slots Used 2
Death Lightning – Strikes surroundings with storm of death lightning
Elden Ring Death Lightning Location
---
Defeat Fortissax and Trade Remembrance of the Lichdragon with Enia at Roundtable Hold
Elden Ring Death Lightning Guides
---
Stamina Cost: 32
Gravel Stone Seal can boosts this Incantation.
Deals lightning damage
Inflicts Death Blight buildup on opponents with both lightning (50) and lingering clouds (30 per tick).