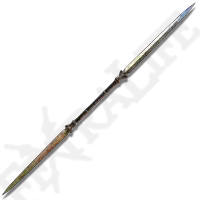 Twinblade
---
Twinblade Requirement
Str: 10
Dex: 18
---
Twinblade Scaling
Str: D
Dex: D
---
Twinblade Attack & Guard
Phy: 119
Mag: 0
Fire: 0
Ligt: 0
Holy: 0
Crit: 100
Phy: 45
Mag: 30
Fire: 30
Ligt: 30
Holy: 30
Boost: 30
Twinblade is a Twinblades in Elden Ring. Twinblade has Standard Damage Type and come with the skill Spinning Slash
Elden Ring Twinblade Location
---
The Twinblade weapon can be found at the following location: Inside a chest, in the underground cellar, surrounded by four intact walls, just entering Dragon-Burnt Ruins. (Not the one with the rats. The one whose entrance is in the southeast building, which you can get inside using Torrent.)
Elden Ring Twinblade Guide
---
Weapon Skill: Spinning Slash.
This weapon can be infused with Ashes of War. As a basic Weapon Elden Ring Twin Blade can be enhanced with differenty of Weapon Skills
Twinblade can be upgraded by using Smithing Stones.
Low requirements, great bleed buildup when infused and buffable.
Elden Ring Twinblade Build
To be updated.