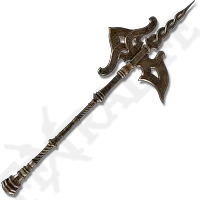 Golden Halberd
---
Golden Halberd Requirement
Str: 30
Dex: 14
Fai: 12
---
Golden Halberd Scaling
Str: D
Dex: E
Fai: D
---
Golden Halberd Attack & Guard
Phy: 134
Mag: 0
Fire: 0
Ligt: 0
Holy: 87
Crit: 100
Phy: 65
Mag: 41
Fire: 41
Ligt: 41
Holy: 56
Boost: 52
Golden Halberd is a Halberd in Elden Ring. Golden Halberd has Standard Damage Type and come with the skill Golden Vow
Elden Ring Golden Halberd Location
---
The Golden Halberd weapon can be found at the following location: Drops from the Tree Sentinel in Limgrave.
We all know who Tree Sentinel is and where he is located, just kick his ass one time and we got his weapon. 
Elden Ring Golden Halberd Guide
---
Weapon Skill: Golden Vow.
Increase Damage by 11.5% (PVE) and 2.5% (PVP)
Reduce Incoming Damage by 7.5% (PVE) and 1.5% (PVP)
Skill passed down from antiquity among the knights of the capital. Raise armament aloft and pledge to honor the Erdtree in battle, granting self and nearby allies increased attack power and defense.
Golden Halberd can be upgraded by using Somber Smithing Stones.
Golden Halberd Build in Elden Ring
---
As this weapon is tied with the Golden Order, the most natural build for this would be a Faith Strenght build. Golden Halberd generally has a good range.
Similar to other Elden Ring halberds, it has both a Running thrust attack as well as a Light Slash attack. The Weapon Skill Golden Vow buff both your attack defense, making it a good option to start with any PVP fight.
Golden Halberd is definitely a good weapon, but aside from the weapon skill, it does not have any special abilities or moveset that make it stand out.