So a week has passed, I finally had some time to write, you may all aware that E3 2018 just finished with the last being Nintendo Switch press. Just as every year, E3 is the time for the developers and publisher introduce (and sometimes boasting) about their upcoming games. With the power of current consoles, a lot of ideas that lie on the dust have become reality,  the classics are revived and sometimes add in things that are not possible back in the day. E3 was never failed in term of highlighting the glory of the gaming industry.
PlayStation Conference at E3 is not outside of this festival, once again Sony confirms that PlayStation still holds its place when its come to exclusive AAA titles, thanks to the effort of the developer's company and the support of publisher SCE (Sony Computer Entertainment).
Let's take a look at the PlayStation titles revealed at E3 2018.
The Exclusive ones
It will not be named "PlayStation Conference" without these titles, the games that convinced gamer around the world to own a shiny new PS4. Over the years, this has become the main arsenal for the "console war" – and boi Sony owns the nuke here.

The Last of Us – Part 2
Sony finally drop the ace, opening with the performance of the franchise composer – Gustavo Santaolalla
Thank IGN for providing us this stunning version!
Its always a marvelous fest when watching Naughty Dog games, this party is more alive than ever. From this scene, It seems the second part of the Last of Us story will focus more on the remaining society after the outbreak.
If you already finished the last game, we all know that Ellie and Joel are on the run and their fate is still a big question, with the conversation at the beginning, look like our hero managed to organize a force with its own rules and action plan.
After "that scene" which causing some controversy in the past few days, what we awaited has been shown, and this time Naughty Dog reminds us that its still the same post-apocalyptic world.
The classic stealth action is still there, Ellie still wears the same backpack and the crouching movement is smooth as ever – suggesting an overhaul of the very same engine. However, this scene does show many new little details were added to the overall gameplay.
After some more vaulting in classic Uncharted style, we have a first look of what could be the actual gameplay (Yes, I say "could be" because we learned our lesson – E3 footage could be scripted sequence for marketing purpose or sometimes simply because of technical constraint and finally was removed)
That's does not mean all the details show here is not possible as many of thems are quite interesting.
Scripted or not, we all admit that motion capture was never been a challenge for the developers of Uncharted series. Lasting for around 20 seconds, this two versus one scene show off how technically advanced video game has became.
The last few minutes of this is our typical hiding and fighting while managing limited resources. Pay close attention to everything, you will notice that there are not even a thing to complain about this gameplay footage. With that said, I will keep my skeptical approach for most of these scenes.
Ghost of Tsushima
Yes, literally a sucker punch to me till now  🙂

Sucker Punch this time live up to its name, delivering a new game out of nowhere since the last "infamous" series.
This is a completely new IP for the PlayStation, and after this gameplay, its look like we will have a solid game ahead.
There is not much information to the plot till now, but let's take the developer words for references:
Taken directly from Sucker Punch studio site – link
Ghost of Tsushima is an open world game featuring samurai combat and history elements.
Throughout this gameplay revelation, we follow the foot steps of Jin to complete a mission in the vast grassland, traverse and side quests following the same route as in other open-world games, our samurai will tackle these missions, helping others during this war and on the way, fighting some big bad Mongolian. The main lure here is the art style the studio has chosen, it's just like you watching a classic Samurai movie of the 60s.
It's easy to notice the combat taken a lot of inspiration from Samurai movie and very true to its source material, its look like enemy can die from a fatal blow to the weak point – a concept that was implemented quite successfully in Bushido Blade (a classic title on PlayStation 1)
We were also introduced to Masako, a skillful archer that help Jin in this mission.
Finally, we have the chance to look at some stealth action, this showcase Jin's stealth abilities in case the mission need a more silent approach.
Feeling dejavu at this scene? Our hero has some Wayne Tech under that hat.

To me, this gameplay looks quite interesting and is not completely unachievable in term of technical requirement, as many games had implemented it in one way or another. Ghost of Tsushima clearly took inspiration from many series, but in the end, its all come down to the execution and setting.
We will receive some new detail for sure as the release date for this ambitious title is still not set.
Death Stranding
I have no valuable comments on this title because I don't understand a single thing in this trailer, period.
Yes, we finally have some gameplay of Death Stranding… consist of carefully walking through rough terrain while carrying various goodies.
Last mile Logistic Simulation – feel the pain of the delivery guy.
Actually, there is a lot of speculation around the internet theory on what is the story all about, this trailer also hints at time-traveling and some over the top gadget. Put those babies aside and spend some of your time to think about what Kojima has in mind may give your brain some serious workout 🙂
In the end, this is a creation of the most famous game designer on the world, and the father of the critical acclaim franchise – Metal Gear, we have concrete evidence to look forward to this sci-fi world.
To compensate for my lack of knowledge for this, here is a recap of Death Stranding:
The collaboration between a game developer & famous actors/ actress of Hollywood.
This Reddit post pretty much sums it up, a tribute to ScapeZerox for posting this.
Marvel Spider-man
I actually don't know why this is named Marvel Spider-man, to distinguish with Sony Spider-man?
"When its look bad, its actually worse" – Wise words, Peter, wise words.
Pretty straightforward, we jump right into gameplay featuring Spider-man dealing with a prison break caused by Electro. Its easy to notice that the combat comes from the same vein of the Batman game with some additional tweaks highlight the Spider flexibility and speed.
Combat looks very fluid, flashy and powerful at the same time.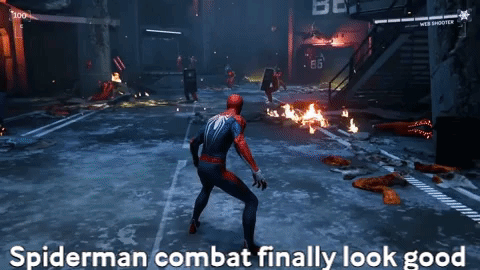 Since the first revelation in 2017, The adversary (until now) of Spider-man in this reboot is Mister Negative – aka Martin Li. In this E3 gameplay walkthrough, we also see many classic Spider-man's villains like Rhino, Electro, Scorpion.
At the end of this, our friendly neighborhood was getting a hard time with these villains, and there is some mysterious appearance of another character – Who could it be? Find out in the next three months, Marvel Spider-man will be released on September 7, 2018.

Nioh 2
Yes, you read that correctly, Nioh 2 is confirmed, and we got a teaser trailer at E3 2018, without knowing that it will be there. Thanks, Koei Tecmo for making this happen.
As its just a tease trailer, we didn't have any game-play to begin our analysis, however, an interview was organized with Fuhimiko Yasuda, director of Nioh, he has confirmed that the sequel will follow the same story in Nioh and implement several new features:
Players can create their own characters (with customization in races and gender)
The players can transform into Oni version of themselves.
Demos will be given out for PlayStation player just like Nioh.
Currently develop specifically for the PS4.
This looks pretty promising and is a great news for the fans of William (Including me) Current release date of Nioh 2 is still not define, but it's surely shorter than the prequel.
New to Nioh? Check out some of my basic guides here:
NIOH – BUILDS- Moonlight Swordsman – Odachi
NIOH – BUILDS– The Cross Swordsman – Dual Swords
Multi-Platform Release
While exclusives titles making the players thinking to pick a side, let's not forget the classic multi-platform titles that gives everyone a chance to compare the graphics and frame-rate and got back to the war again 🙂

Kingdom Hearts III
"Yo ho yo ho… that's how bad voice acting kill a good video game"
The tenth games of the series (or eleven? it's certainly more than nine Kingdom Heart games out there across platform) Originally developed for PlayStation, this franchise has finally decided to step on Microsoft console with this release.
Kingdom Heart has been famous for its unique combination between Final Fantasy characters and Disney's prince and princess. Following the same formula, the story continues with the journey of Sora, Donald & Goofy through various Disney's world.
To our surprise, in this E3 trailer, Sora finally visit the famous Caribbean sea and befriend with Captain Jack Sparrow and his crew.
Kingdom Heart III will surely take up some of our time playing in its release on January 29, 2019.
Devil May Cry 5
We waited ten long years for this day, gamers throw of their rage over the new Dante for this day, and when everyone seems to lose hope, they simply put a gameplay trailer out telling us that it's being developed all along.
Yes, its here, you are in an alternate universe that Devil May Cry 5 exist! The trailer also packs in some gameplay footage where we realized the "short" hair guy in the game is actually Nero, the youngster introduced in Devil May Cry 4.
Every detail of a Devil May Cry we love is there, from the cocky attitude to the neon panel, suggesting that Capcom has planned this all along and has bet for a big come back on the series.
With the look of this trailer, we can be confident that the game is nearly finished. To confirm this, Capcom has announced a Spring 2019 release date. I have more than six months to practice my thumbs for this title.